Success Story 7 minute read
Saffi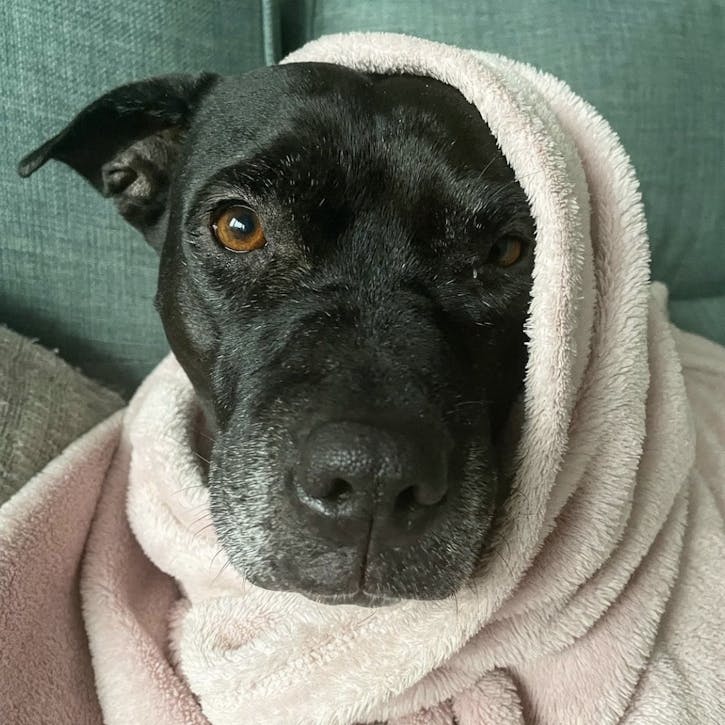 Saffi's Mum says....
I grew up with rescue dogs and I knew the love that they had to give. We also were keen on staffies because of the bad reputation that they have and how hugely wrong that perception is!
We rehomed Saffi the Staffy (as my Mum and all our neighbours so fondly call her) when she was approximately 2 and a half. She had been found in Birmingham and taken to a pound. Upon arrival, her skin was so sore that she was unable to open her eyes . They said that despite this, she tried to lick other dogs through the bars and wagged her tail at everybody and everything that passed her. When her 7 days were up in the pound and her only fate was to be put to sleep, South East Dog Rescue stepped in and offered her a lifeline at their base in Kent. She travelled down here with a number of different volunteers who do short distances of each part of the journey and then pass her onto the next volunteer to ensure she has safe passage to her place of safety.
I remember the day we met Saffi like it was yesterday. We'd had our homecheck and were sure we were just going to go and meet her and see how we felt. Well, needless to say we came home with one extra passenger that day. I still remember the door of the kennel opening and this bouncy, beautiful face coming towards us with more love in her eyes than I can put into words. We took her for a walk in the local field and we kept calling her back to us, where she would fall to the floor, roll over and wait there for belly rubs. My Mum came with us and I still remember her saying to us "Why on earth would she spend another night in the kennels? Let's get her home now." Because our home check had already been completed, we did just that. And life has never been the same since.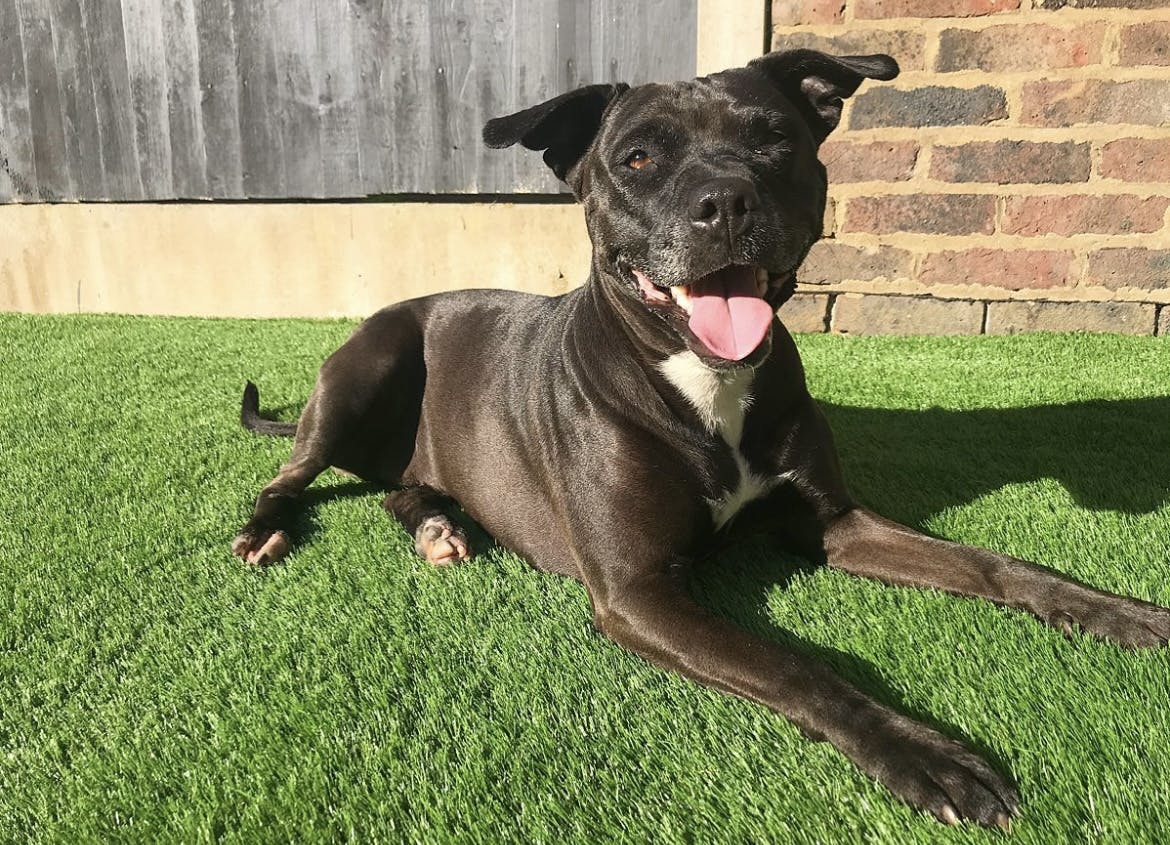 When Saffi first came home...
... we let her off her lead, sat on the living room sofa and let her explore the whole house. I think we expected her to bound around and investigate like we would as if we were looking round a hotel room or something! I think we sort of forgot how big a change this was to this dog that had already been through so much. I still remember it so well. She just looked up at us both, jumped between us on the sofa, curled up.. and there she stayed. We took her out on her lead to explore the village that evening and then we came home, made a cuppa and curled up in bed (obviously with Saffi between us in there too!) I remember saying to my partner "Oh my goodness, we have a dog!" It had been something we had dreamed about for so long. Rescuing, staffies, all of it.
We were very lucky with Saffi and that became apparent from the beginning. Apart from some very minor things, she settled in perfectly. She met everyone who was special to us and who were going to be regular visitors. We spent lots of time introducing her to the outside world around us. One thing I do remember well is she went running towards the sea (something she wouldn't have been familiar with in Birmingham) and it was like a delay of her realising what the sea actually was. Safe to say she came charging back out again!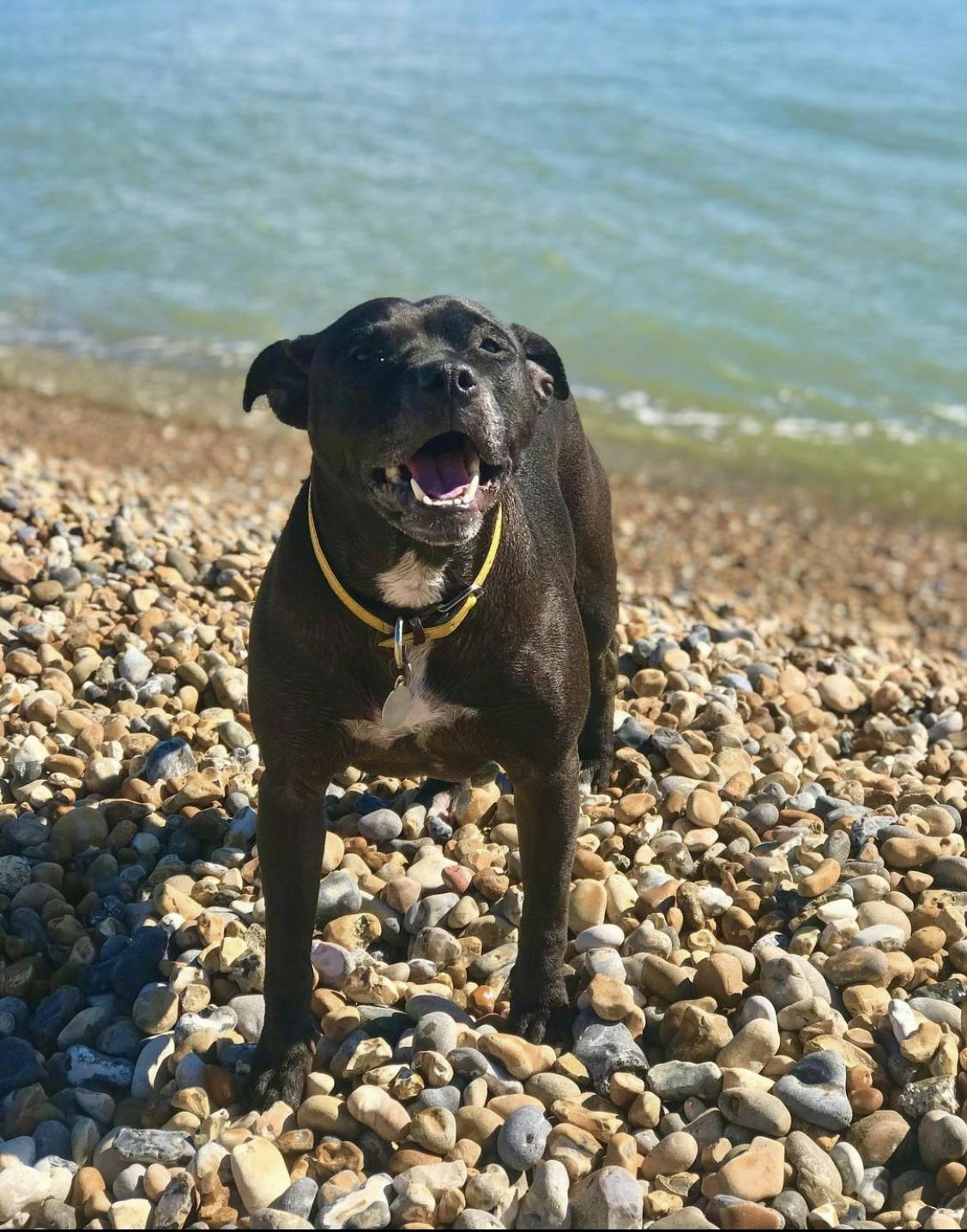 Saffi at the beach
Saffi gets a sister...
... Our home life is busy and loud and there is never a dull moment and I wouldn't have it any other way. After welcoming a little girl into the world 18 months after rescuing Saffi, I returned to work just 2 days a week and my partner is full time. On the two days I work, I have a dog walker who pops in on Saffi twice and walks her too. We don't have any other permanent animal residents in our home other than Saffi but as my Mum is a dog walker, she often pops in for a cuppa in the garden with some of her dogs, each one Saffi welcomes in happily. We are so lucky. Her relationship with other dogs and humans, particularly the one she has with her little human sister, is something I couldn't have even dreamt of!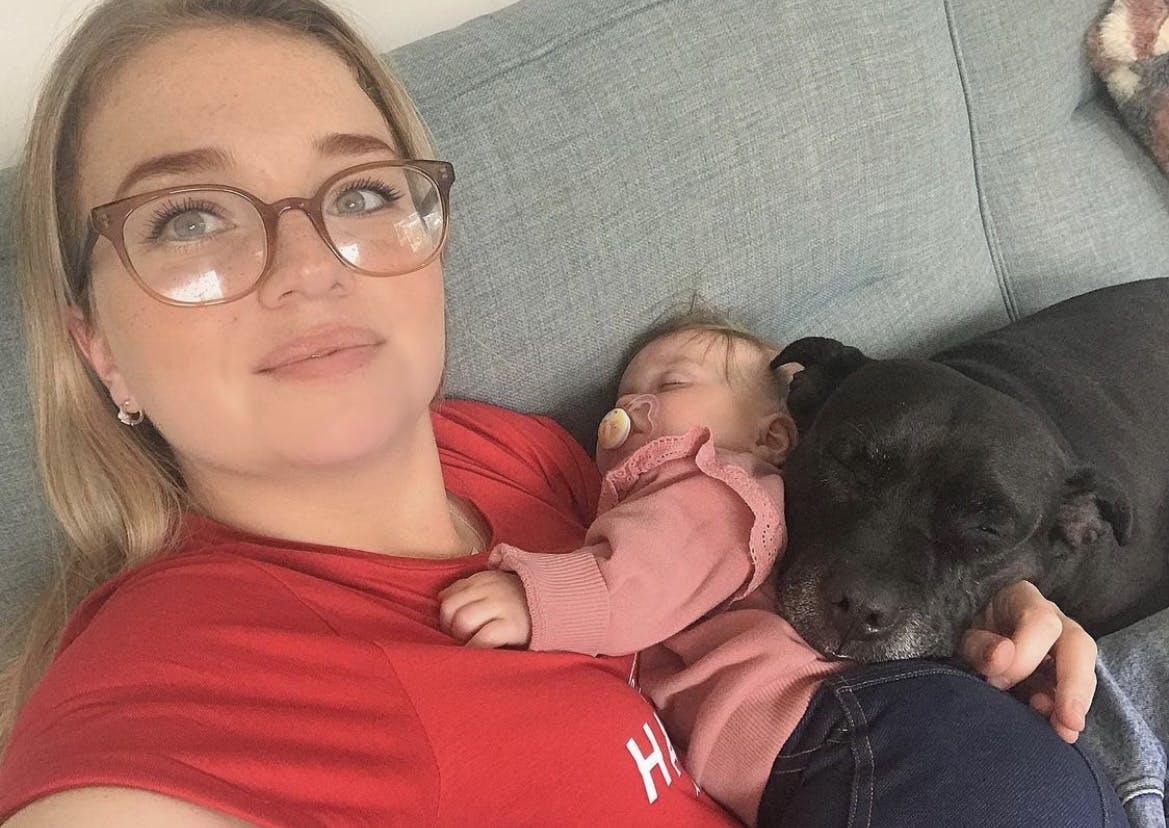 Saffi with her human sister and Mum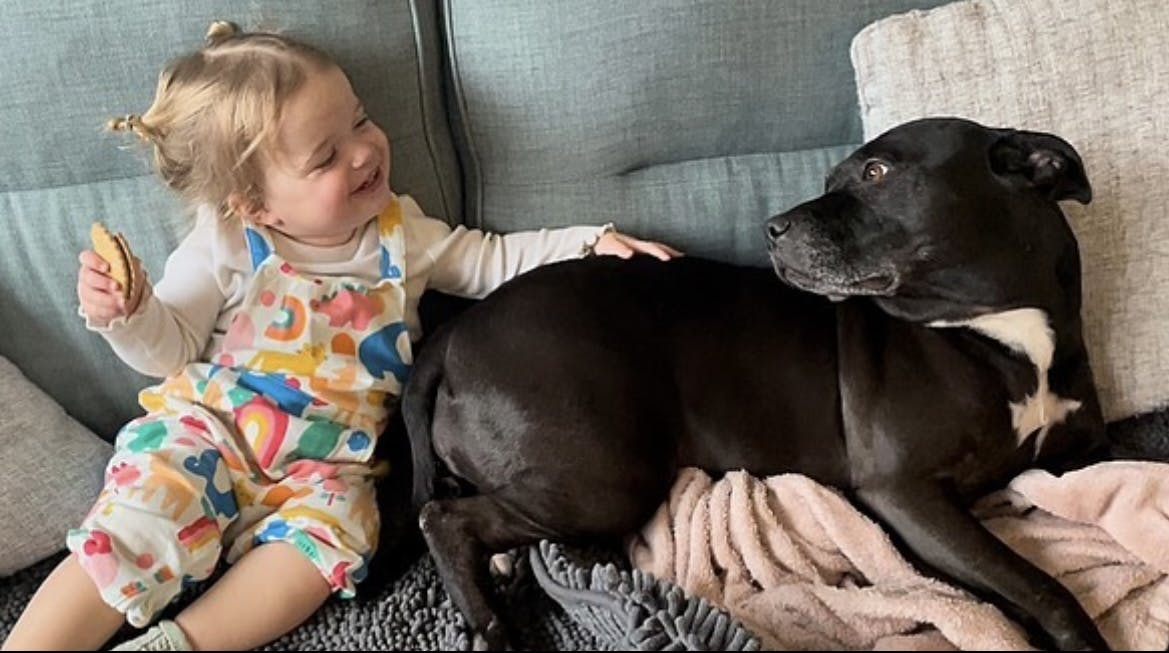 Growing up together
Dealing with the little issues....
... One thing we struggled with was Saffi's recall. Although Saffi is very friendly, I grew up with dog reactive dogs and I didn't want to be an irresponsible owner and let her run up to dogs, however gentle she may be. I asked for advice from Kymm for this and she suggested cheese (lots of it!) and plenty of positive reinforcement. It has taken us a long time, it was only last week we were doing our beach walk and my partner and I commented on how amazing she is with her recall now (we rescued her almost 3 years ago!) so it has taken time, but we have got there for sure. When she first came to us, she also had a habit of chewing. Almost all of my pillows and bedding sets had little holes in! But again, I think this was something that may have been caused by a bit of anxiety of not knowing her whereabouts well. With licky mats, toys and chews always available and plenty of things to keep her busy and distracted, this soon changed and now when she is left alone, all she does is sleep!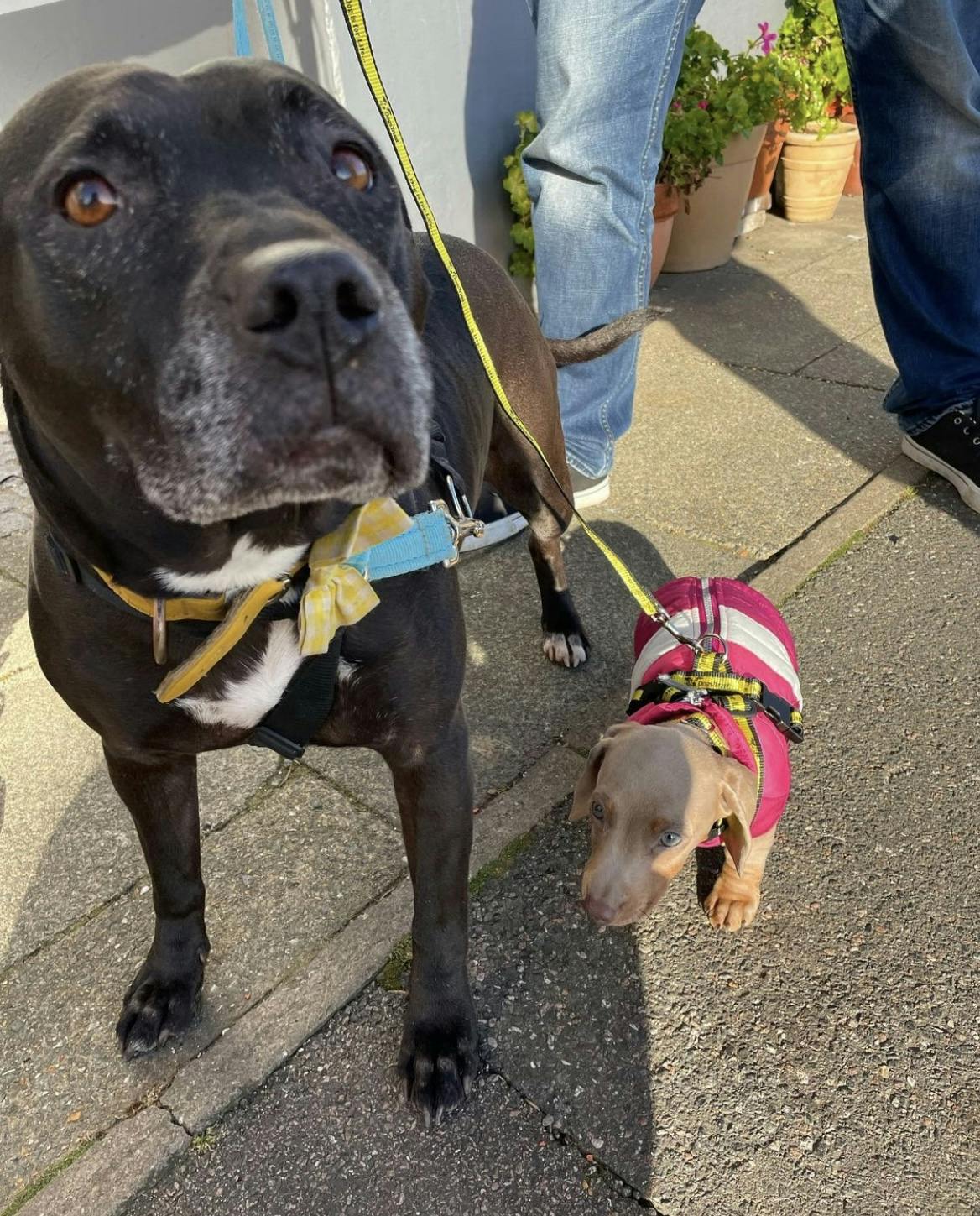 Pals
Saffi and her family now...
... Saffi has been a part of our family for 3 years. I just can't believe where the time has gone. I know it might sound silly to some, but rescuing Saffi has changed my life. She is the most patient, gentle and kind soul. Everyday she is happy and makes us smile and laugh with something she does. Not only that, but seeing the way she accepted her human sister too. Saffi takes food so gently from her hands, is always beside her on walks and lays in her room when she's in her cot sleeping. I know that some people have this perception of staffys, completely created because of the people historically that have owned them, but after having so many different breeds in my life, I can categorically say there is no love in the world like the love of a staffy. She's a 30kg lap dog with a heart of gold and the softest temperament. It's true, of course, that they are strong. But I know one thing that is stronger than their physical strength is the strength of the love they repay you with every single day. After the start she had too, to be so forgiving and kind, it really teaches us humans so much too.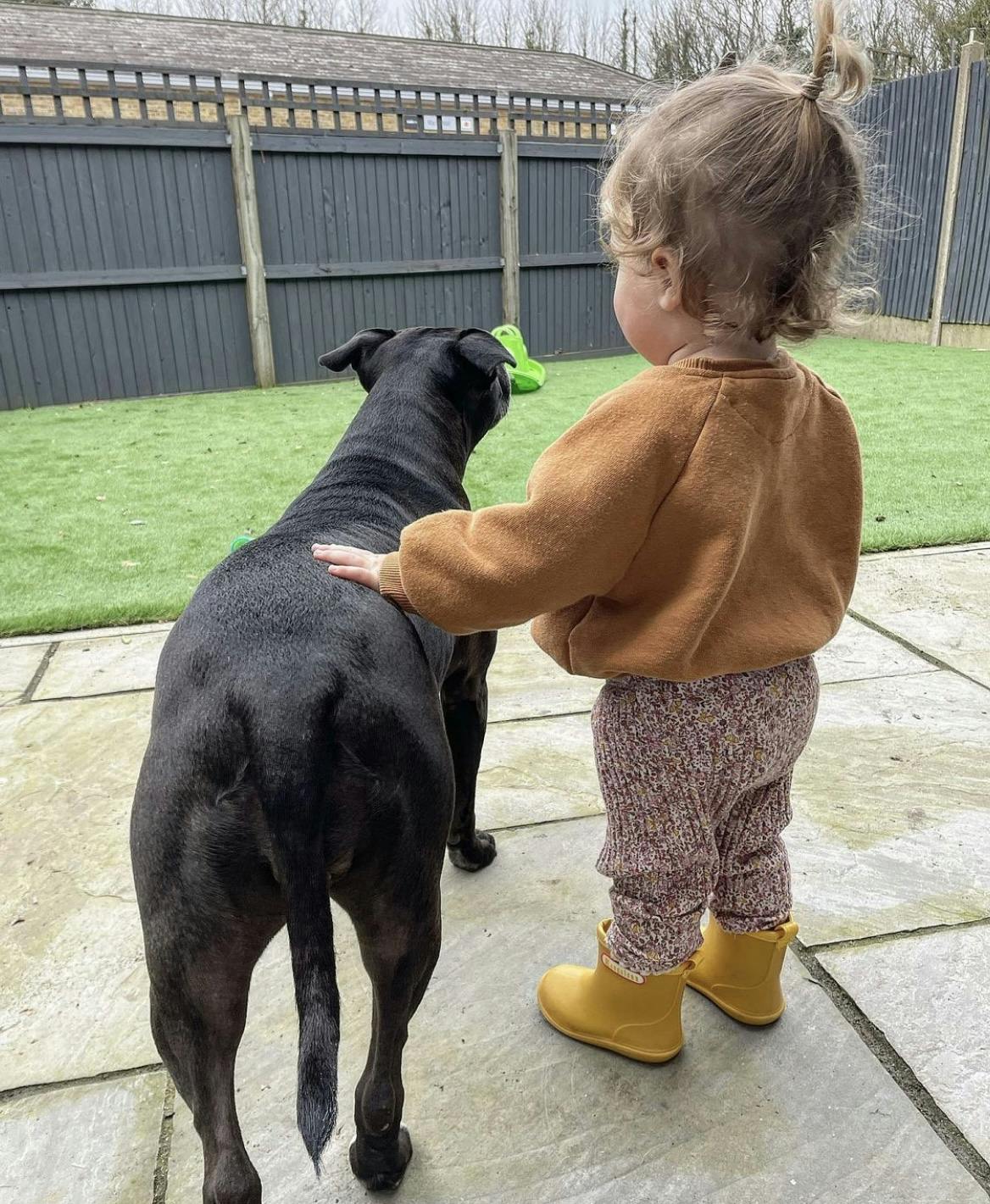 Family forever
Saffi isn't only a dog in our family, she's a family member and she's living the life now that she should've always had. I can't imagine my life without her now and I never want to.
 Thank you x