Meet Penelope
Find out about her journey from emergency case to furever home and help her to live the life every dog deserves.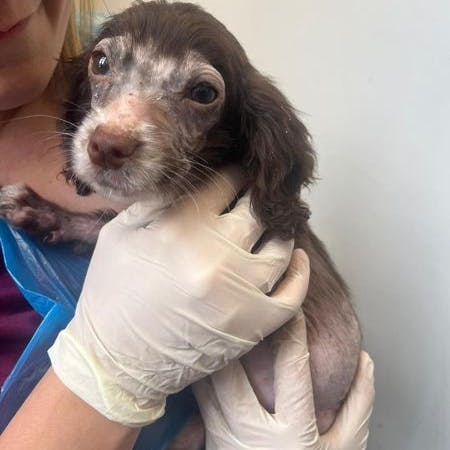 Another emergency intake 
We were contacted by a vets asking for help for this little one. As you can see she has mange and a very distended stomach.
We've transferred her straight to our 24 hours vets for investigation, observation and treatment.
The nurses called her Penelope 
If anyone can donate to her care we would be so grateful. With crippling vets bills we can only continue to help dogs like Penelope with your help.
Penelope has had an ultrasound which thankfully has not shown anything sinister. She is being carefully monitored due to the risk of an intussusception. (An intussusception is life-threatening and occurs when a portion of the intestine folds like a telescope, with one segment slipping inside another segment. This causes an obstruction, preventing the passage of food that is being digested through the intestine)
She has had some sickness and diarrhoea but thankfully has tested negative for parvovirus. She has had an anti-sickness injection and is eating little and often meals.
She has tested positive for Giardia for which treatment has started…and had a bath to help with her skin.
Thank you to those who have donated and or shared…we truly appreciate your support.
After spending 6 days at the vets…Penelope is now in foster and doing great. The road to recovery has well and truly started!
Welcome Penelope - we've got you....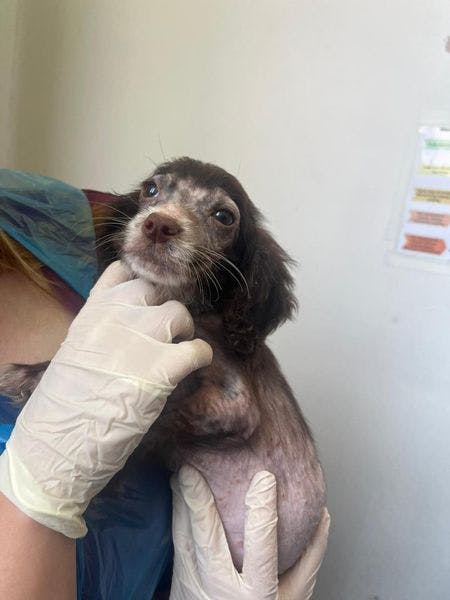 Giving Penelope a chance means that we need to raise funds to pay for her care. If you can spare a £1, or more, every £1 makes a huge difference and means we can continue to help these dogs. If you can help, here's how to donate:
Bank Transfer
Pay your donation by bank transfer to our Lloyds Account:
Account Number 4104 7960
Sort Code 30-96-31
Paypal
Pop over to PayPal by clicking the link below and simply add your amount and click the 'Donate'
Click to donate via PayPal