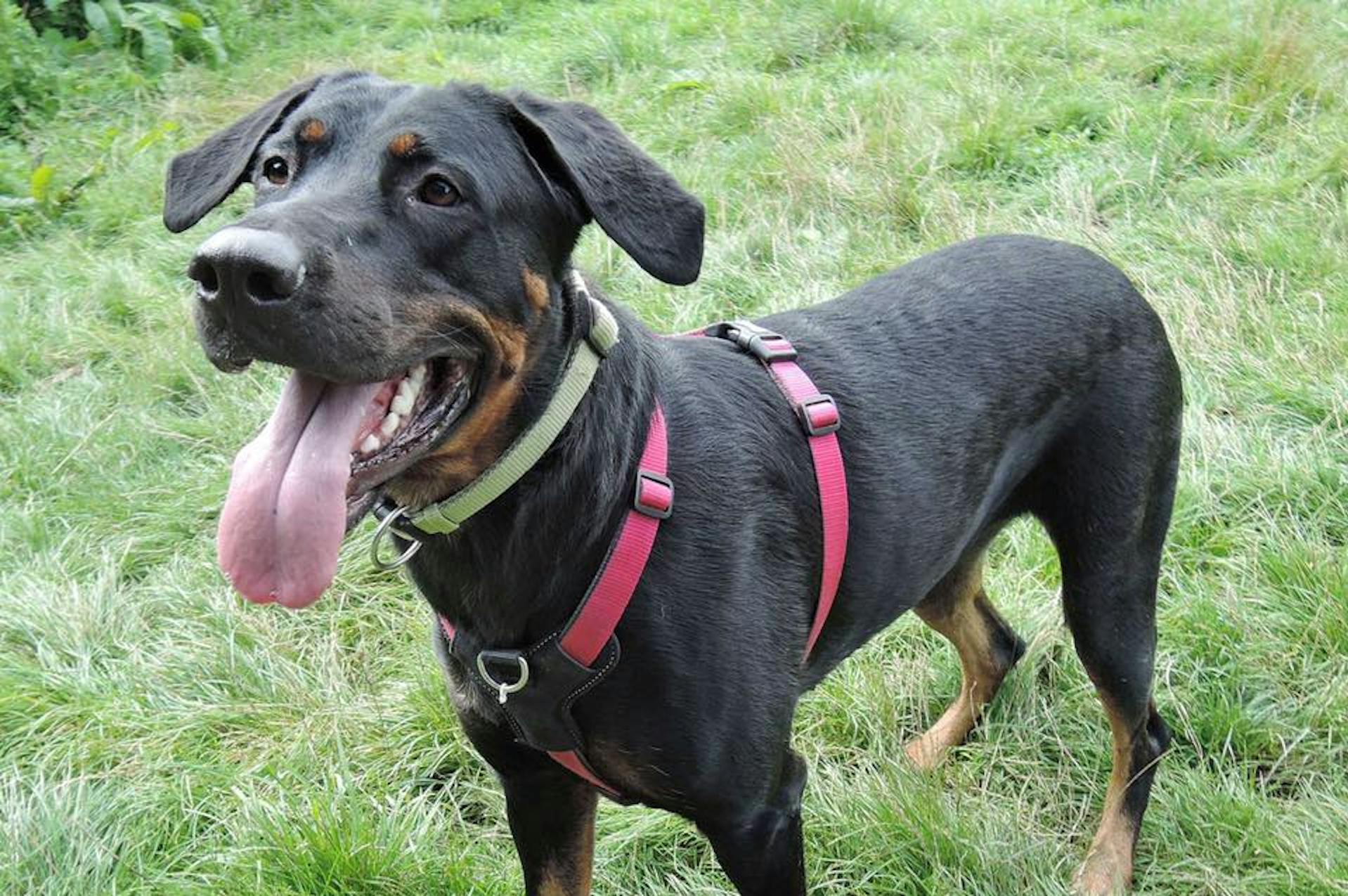 Age

4

Size

X-Large (25-40kg)

Sex

Female

Breed

TBC

Live with Cats

No

Live with Children

Yes - children over 10yrs

Live with Dogs

No
So! Missy's assessment in a foster home is now complete and this gorgeous girl is now looking for her fur-ever home. The only reason she wasn't adopted by her foster family is that she needs to be the only dog in the home (but is extremely sociable with dogs out on walks) and they already have a dog. She cannot live with cats.
Here's what her foster mum says about her….
Firstly I cannot stress enough what a lovely and sweet girl Missy is! And if I did not have a dog already then she would be staying – without a doubt! Although she plays with my dog and sleeps next to each other – she does not want to share our love, food and toys!
Missy:
Is house trained 
Is not destructive in the house 
Has perfect recall off lead 
Is gentle taking treats 
Is the most affectionate and loving dog 
Is easy to train (she will do anything for a treat) 
Loves cuddles, curling up with you on the sofa and will follow you to the ends of the earth and be your most loyal, best friend 
Can be left without any anxiety – as long as she has had a decent walk she can be left for a good few hours with no issues – she just sleeps 
Is amazing meeting other dogs out on walks – no aggression whatsoever. She will play with other dogs and come back as soon as you call her
Is amazing meeting new people – out and about 
Will 'protect' her house by barking at dogs outside of the house – we lost a net curtain or two when she jumped up at the window at passing dogs 
Is a foodie! She will take food off the side if given the opportunity! However, she will stay in her bed whilst you are eating and does not beg for your food.
Is fine sharing her toys and balls in the park but not in the home with my other dog 
Is great with my six-year-old child but I feel older children who are understanding of her needing to be left alone when eating her food is a must.
Missy will make the most fantastic and loyal dog for her new family. I am truly heartbroken we cannot adopt her but I am so glad we were able to get her out of kennels, assess her and enjoy the absolutely unique, loving, devoted cuddle bug that is Missy.
Missy has been neutered, microchipped and vaccinated.
Missy has been in two homes since her foster home but has shown signs of guarding her home (as those experienced with the breed will expect) She has jumped up at a delivery driver and shown her teeth and growled at an unknown man entering the home not long after she had arrived. Whilst we all know Missy and what a wonderful dog she is with humans – we, of course, need to share this information so that simple measures can be put into place in her new home. We have no reason whatsoever to doubt her proven history with children but we would now like to find an adult home (teenagers plus) to take every step possible to ensure that Missy's next home is her final one! A quiet, experienced home without lots of visitors is a must.