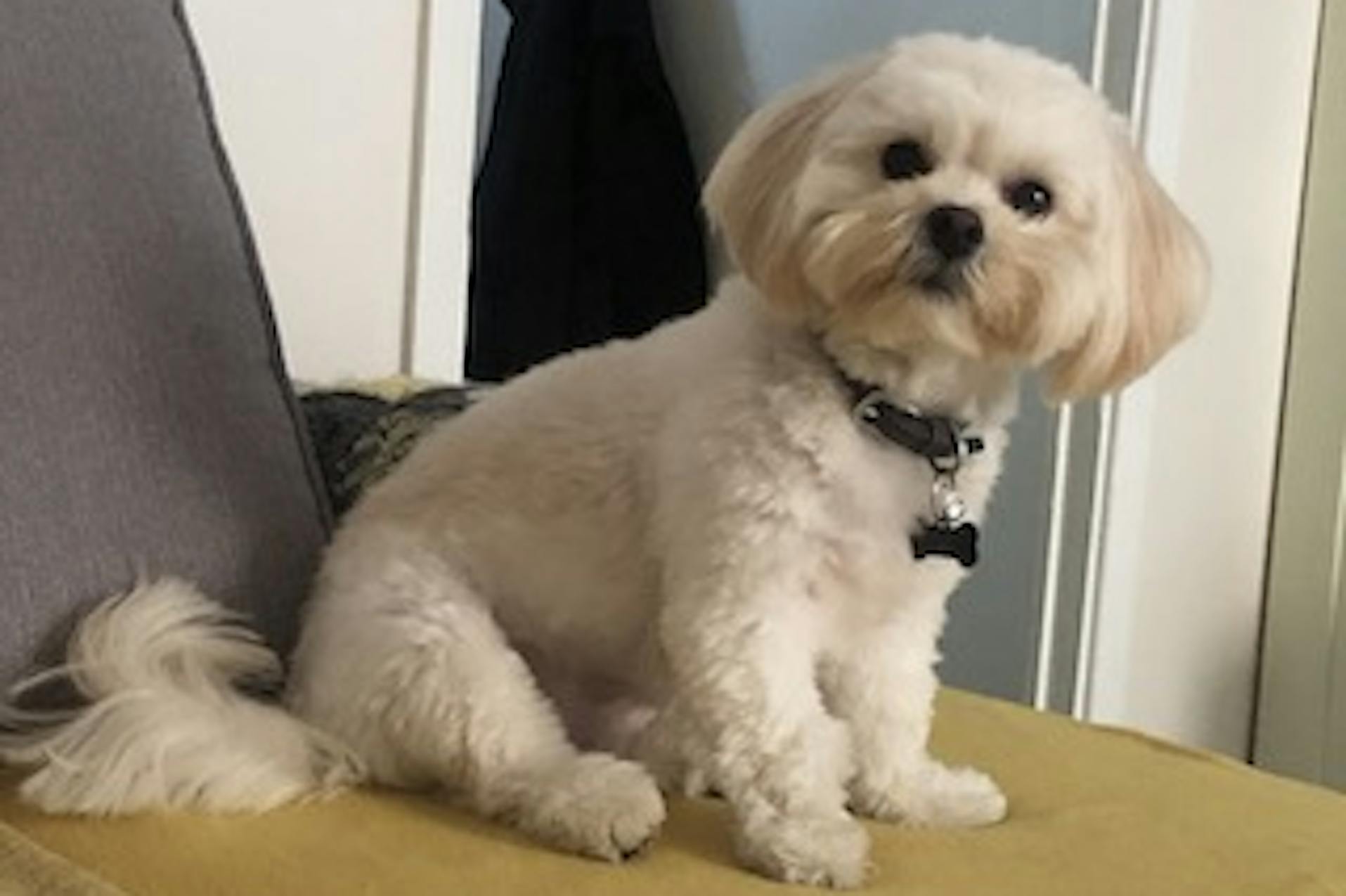 Age

3

Size

Medium (4-10kg)

Sex

Male

Breed

Bichon X Chihuahua
Appliations for Finley can only be considered for homes that meet the following criteria:
People Friendly?

✅

Yes

Live with cats and small furries?

✅

Yes

Live with children under 13

❌

No

Live with other dogs?

✅

Yes

Requires an Experienced home?

✅

Yes
Please READ Finley's rehoming profile very carefully. He will need an experienced home and due to our limited resources, we will not answer enquiries that do not meet Finley's needs.
Finley is a nearly 3-year-old Bichon X Chihuahua male. Whilst he is very cute like a teddy bear, he often thinks that he is a lion. Therefore, he will need an experienced home prepared to work with his issues (indoor reactivity and resource-guarding). He CANNOT live with children and will need a quiet, adult-only home with few visitors. He also cannot live with cats.
Finley's main issue is that he barks and lunges at people/visitors in the home, including the current owners on occasion. Whist this issue with visitors did improve initially with guidance from a dog behaviourist, the issue has started to become difficult to manage again. As the owners now have a newborn, it is not feasible for them to try and manage Finley's ongoing issue. Finley also has some issues with resource-guarding around high-value treats, so this will need careful management/work. At SEDR, we can offer ongoing behavioural advice and guidance to an adoptive home. 
Finley also has a lot of redeeming features too! He loves going for walks and playing with dogs of a similar size (he is a bit unsure of bigger dogs though!). His recall is solid and he will come back at the offer of food! Finley can meet new people on walks but he needs people to respect his space with slow introductions. He is great in the car, fully house-trained, can be left on his own for a few hours and he is not destructive.
Ideally, we would like to find Finley a home with an older, confident dog who can give Finley some guidance in his new environment. Finley is neutered, microchipped and his vaccinations are currently up to date.
Here's what his current family say about him...
We have had Finley from a tiny puppy. He is a gorgeous, loving and loyal dog and we are heartbroken that we are unable to meet his needs and keep him in our family. He will make someone on their own (no children) very happy with/without another similar size older dog that he may be able to learn from.
A home with only a few visitors with slow introductions would be ideal to give him the attention and training he needs. He is happy to see visitors initially but gets very anxious when they move about the home and this is when he starts barking and lunging at the visitor. I think with further training he could overcome this unfortunately now we have a baby daughter we cannot take the risk when she's crawling and he becomes anxious. He occasionally barked at us as he was getting used to our newborn at home, however that has improved greatly as time has gone on.
He absolutely loves walks and being off the lead chasing other dogs his size. He is a bit wary of big dogs and will bark and pull when he's anxious. He does not like being stroked on the head (prefers his back) by strangers and will shy away or bark. He does try to chase cats.
He also loves playing with his toys at home with us in the home. He's not a lap dog but loves strokes and cuddles and lets you know when he's had enough. He is able to be left for a few hours and just sleeps at home, he is not destructive. He comes on holiday with us and is well behaved out and about.