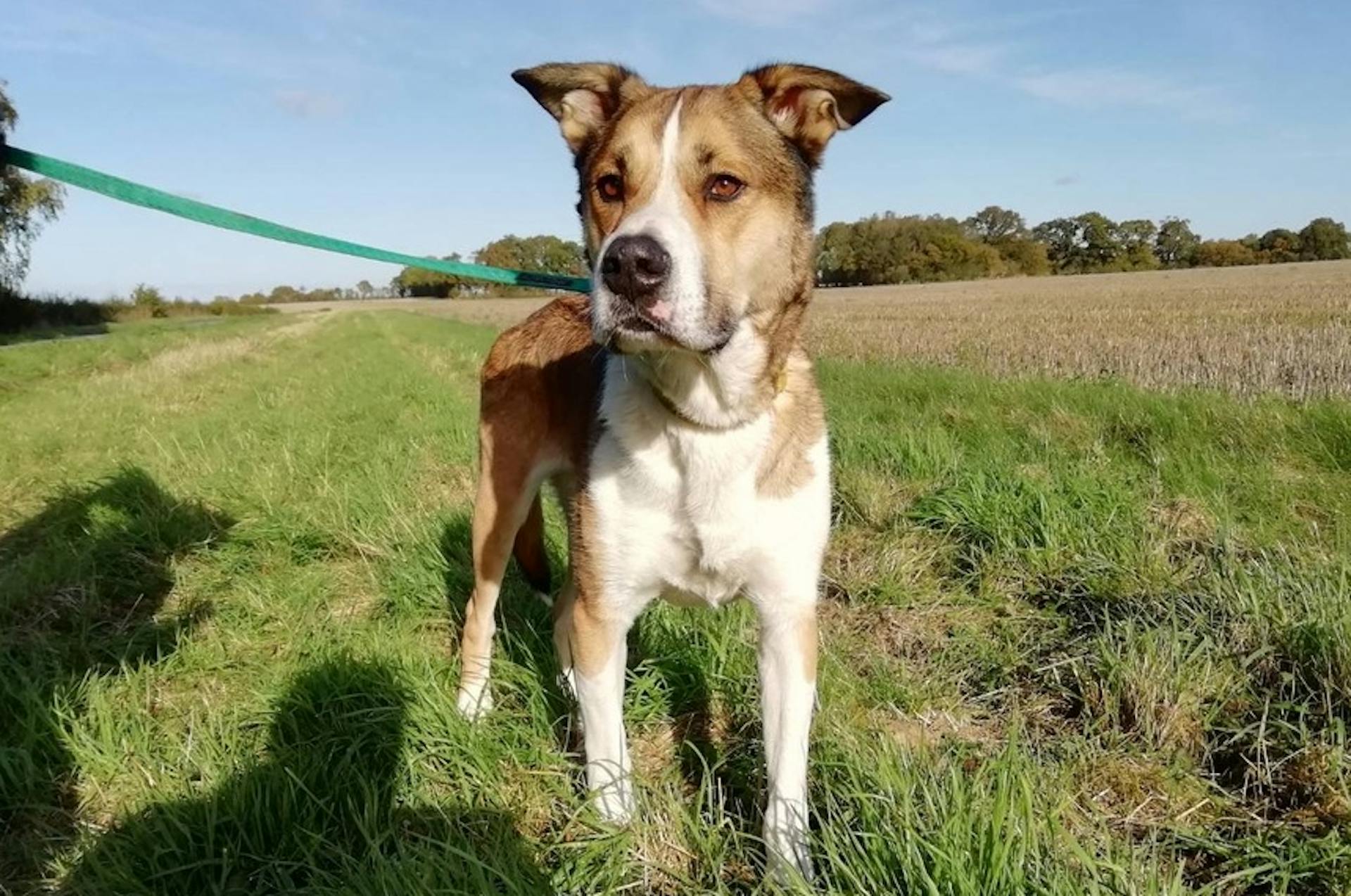 Age

3

Size

XX-Large (40kg>)

Sex

Male

Breed

Husky X American Bulldog
Appliations for Bruno can only be considered for homes that meet the following criteria:
People Friendly?

✅

Yes

Live with cats and small furries?

❌

No

Live with children under 13

✅

Yes

Live with other dogs?

✅

Yes

Requires an Experienced home?

✅

Yes
Hi everyone!
My name is Bruno 'Fat Head' and I am a 3-year-old Husky X American Bulldog. I have been neutered, vaccinated and microchipped.
My former owners did not take good care of me and so a very nice lady took me into her home to keep me safe. Unfortunately, she cannot keep me long term as she already has 6 other big dogs and it is a bit overwhelming for me. In fact, I would love a bit of 'me' time! Whilst I could live with another calm and confident dog, I would be very happy having a family all to myself, with all of their attention lavished on my Fat Head!
In the past, new people scared me, especially on walks. However, my current mum has worked really hard with my socialisation and I am a much more confident boy. I still prefer people to respect my feelings and not stick their hand straight into my face. Once you have earned my trust though, you are my friend and there is nothing more I want in this world than to make you happy! In fact, I offer pawsome 'bear hugs'!
As my current mum has so many other dogs to walk, I will need some work on my socialisation with new dogs outside: I do tend to bark and lunge at them. However, as a really bright boy who is eager to please his humans, I promise that I will improve. In fact, I LOVE treats and will do anything for a quick snack, so this will really help in my future training!
I walk really nicely on a loose lead and I have a good recall off-lead in quiet, secluded areas. Whilst I do like long walks, I am just as happy having a 'sofa day' as long as my family are by my side.
I do get nervous around young children so I will need a home with teenagers/ adults only. I would much prefer a quieter home without too much going on.
I also have separation anxiety and this may take time to settle in a new home. Currently, my mum puts me in a travel-style crate and I do tend to settle down. However, I do not like to be left alone for long periods so will need a family who is never going to leave me more than a few hours.
Unfortunately, I am not keen on the kitties so will need a home without cats!
My current mummy made sure that I had an operation in June to remove a femoral head which was fractured (sadly, my former owners did not get it fixed for me!). As a result, I have a very minor limp but it causes me no problems.
I am still very much a young boy in an adult body, like Tom Hanks in 'Big' so I will need a family who is very experienced with large breeds. My family also needs to understand that I need time to learn what is expected of me. I may mouth occasionally or need to be told not to jump up. However, once I know the ropes, I will do whatever you ask of me!
I know that I am not an 'easy' dog and I will need time and patience, but I promise you, paw on heart, that I will be the most loyal, loving goofball that you could ever have in your life!
I am currently being fostered in Oxford
Lots of wags and kisses,
Bruno 'Fat Head' 😍💋
Bruno with his foster brother